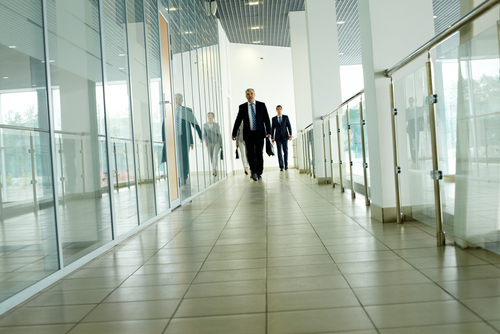 AUGUST 30, 2022 / BY ACTIVEPURE / 9 MINUTES OF READING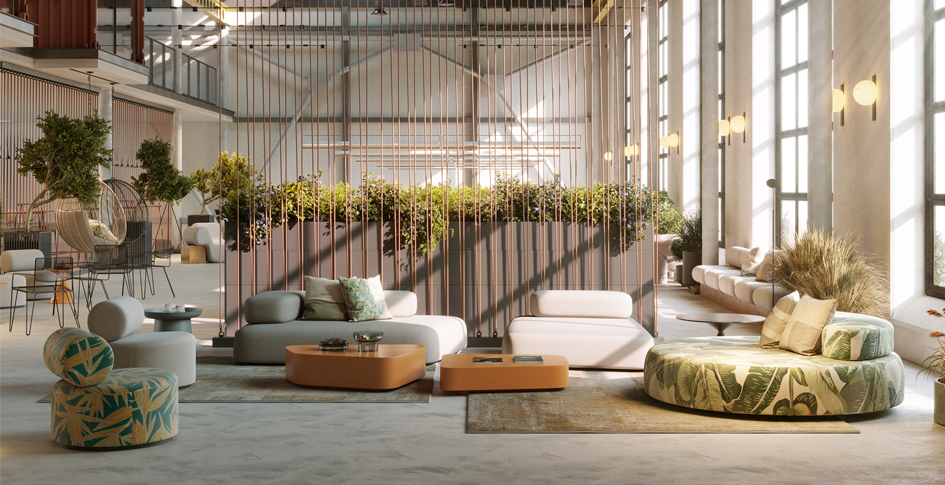 The Building Owners and Managers Association (BOMA) breaks North American commercial buildings into three classes: A, B, or C. According to BOMA, "These classes represent a subjective quality rating of buildings which indicates the competitive ability of each building to attract similar types of tenants."1
In this article, we will cover building classes in brief, explain why investing in upgrading your building to a higher class (or maintaining it at that class level) is to your financial advantage, and explain how the right indoor air quality and sustainability improvements can assist you in this upgrade.
A Brief Overview of Building Classes
The most important thing to remember is that your building's class is relative to other buildings in your market. A Class A building in midtown Manhattan will not be the same as a Class A building in Winnipeg, Manitoba.2 This also means that building class is not a formal certification; rather it is a guideline for building managers, owners, and real estate agents to help market the right spaces to the right customers. In other words, they are a "standardization of discussion" rather than standards themselves.3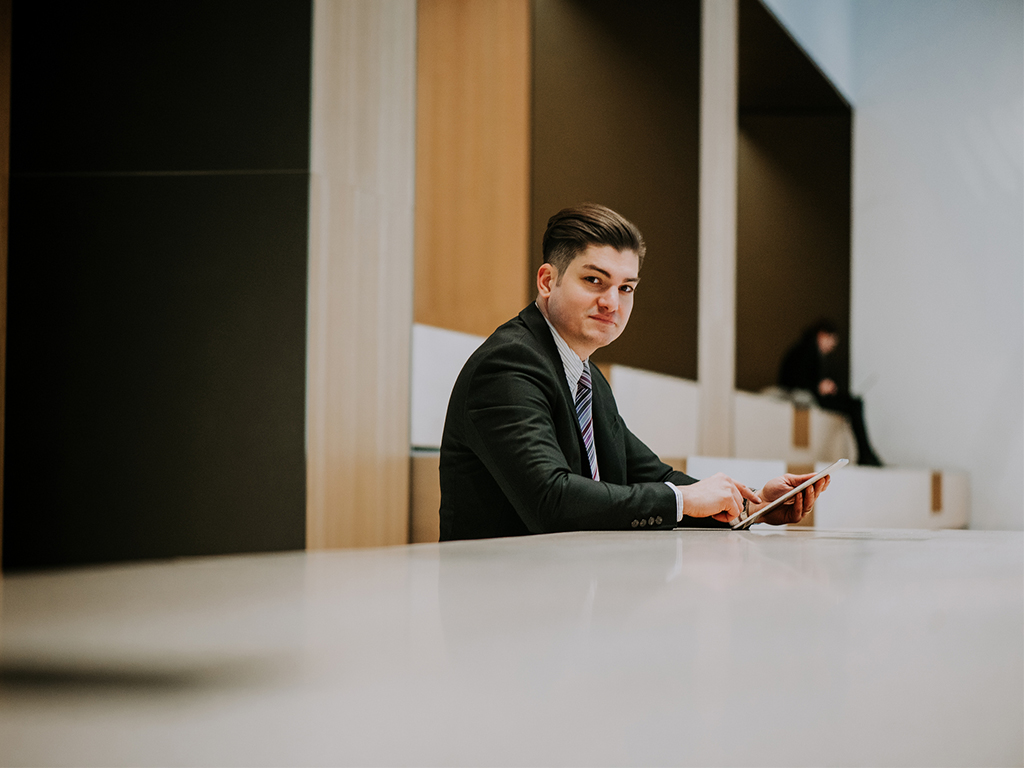 A security guard in a Class A lobby. Class A offices often have 24/7 attended lobbies. (Image credit: Getty | wickedberlin)
Class A
Class A buildings, as you might guess, are the best in a given market. They generally have the fanciest finishings, the most well-maintained HVAC and elevator systems, and 24/7 attended lobbies. They are often located in the central business district of a city on major roads.4 Class A buildings are designed to be office buildings.5 That is to say, Class A buildings are not industrial buildings refurbished into offices, (this would sometimes be referred to as Class I).6 Class A buildings also tend to be newer, though there are plenty of venerable exceptions to this in more historic cities.7
Class A buildings may be expected to comply with external sustainability, energy, and environmental quality standards and actively seek certificates to this effect (such as LEED v4.1 Operations + Maintenance).8
You may also see the terms "Class AAA," "Class AA," and "Class A+". These refer to crème de la crème buildings which are distinguished even above other Class A's.
Class B
Class B buildings tend to be on the outskirts of downtown or the suburbs, but may also be in the same location as Class A buildings.9 They may be former Class A buildings that have experienced some deterioration.10 Class B buildings compete for a wide variety of tenants. According to BOMA, rents are average for the area, and "Building finishes are fair to good[...] but the building does not compete with Class A at the same price."11
Class C
Class C buildings tend to be in less desirable locations than the previous two classes.12 According to Squarefoot.com, "There are very few Class C office buildings on the market because they struggle to compete with higher-quality office spaces. These properties often undergo renovations or are converted into residential units."13 Class C buildings tend to be devoid of fancy finishings. Without sufficient or full-time personnel, their systems are likely maintained at a bare minimum level to meet code. None of this, however, makes Class C buildings bad. For the right client (such a low-budget startup) they can be exactly what is needed.14
Remember, none of these are set in stone. According to the Balance "official as they sound, these classifications are somewhat subjective."15 This means your building's class can be changed, either accidentally as the building deteriorates, or intentionally as you make incremental upgrades.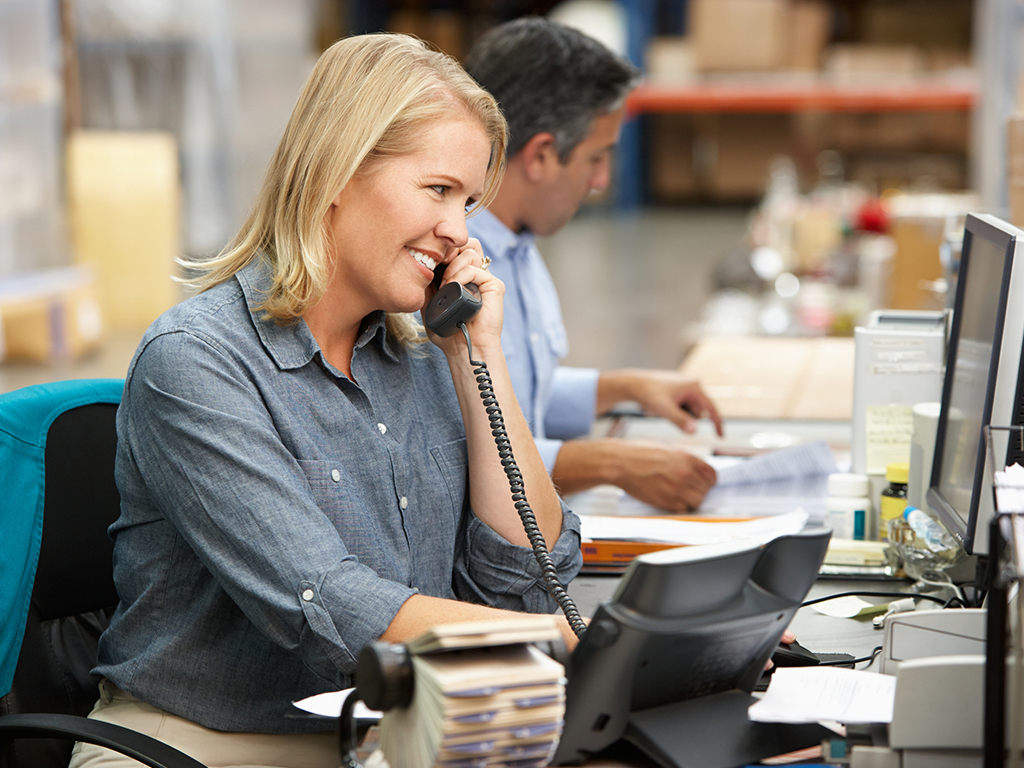 Workers in a warehouse office. Former industrial spaces may be converted into Class I office buildings. (Image credit: Getty | monkeybusinessimages)
Why Upgrading Your Building Pays for Itself
Why should you want to change your building's class? Well, it's a matter of simple economics. By improving your building class, you improve your ROI. For instance, according to Retail-OfficeSpace.com, there is a $22 difference in rent per square foot between a Class A office building and a Class B office building in Manhattan.
Nevertheless, it is understandable that an owner would be hesitant about the initial investment. Class A buildings likely have the resources to maintain their already enviable rating. Class B and C building owners, however, may be more pinched. According to the BOMA's co-authored eBook Unlocking Hidden Value in Class B/C Office Buildings "[...]stakeholders operating Class B/C buildings are often so consumed with day-to-day activities that they do not have the time to learn about best practices for energy efficiency, green leasing, or new technologies to improve operations, and they need quick, low- or no-cost options to choose from."16
Sustainability upgrades are more affordable than you think.
Sustainability improvements are key for upgrading your building class. As BOMA states in the aforementioned eBook:
Value-add investments in Class B/C office properties, especially those including energy efficiency improvements, can reposition a Class B/C property into Class A. By integrating new efficiency technologies like new fixtures, HVAC systems, and building automation systems, building owners can improve the overall tenant experience and lower the overall costs of occupying a space, potentially leading to improved occupancy levels.17
As a bonus, sustainability nearly always pays for itself. BOMA goes on to state:
Class B/C properties could save roughly 15% of their energy costs with a bundle of low-to-no-cost measures, and 35% or more with larger investments that still reap a three-year payback period. That can reduce a property's operating expenses by $0.26 to $0.61 per square foot (i.e., $20,000 to $46,000 for a 75,000-square-foot building), increase net operating income (NOI) by 1.9% to 4.3%, and boost property value by approximately $4 to $8 per square foot (i.e., adding $269,000 to $627,000 in value to that same 75,000-square-foot building).18
If the up-front cost of such improvements is still insurmountable, maintaining the systems you already have can improve your building's profitability. For instance, BOMA cites one case study where routine maintenance of heating systems reduced tenant complaints by 90%.19
Even if you are already Class A, sustainability and energy improvements can help you maintain your profitable prestige. Leading building solutions consultant ESD cites a case study where a building was able to maintain its Class A status largely by focusing its renovations on improving thermal comfort, improving air quality, and reducing utility bills.20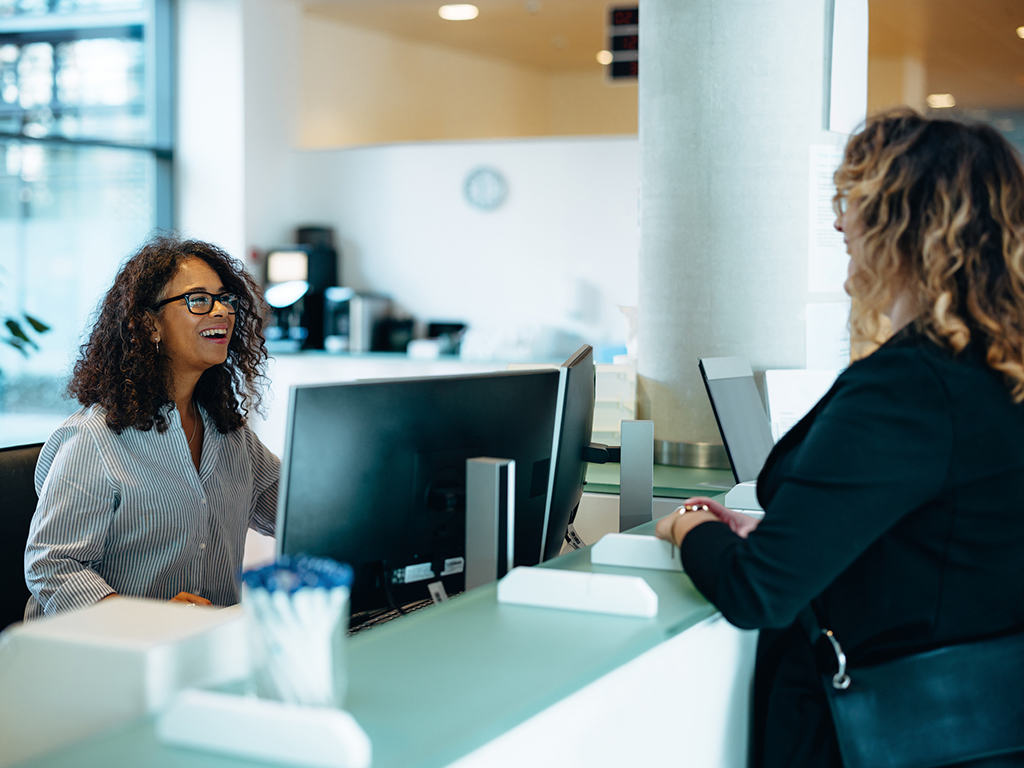 A receptionist working in a Class B office. (Image credit: Getty | jacoblund)
Air quality upgrades make 'cents.'
Note that air quality, alongside energy efficiency, was an important factor in the aforementioned case study's success. Improving indoor air quality can both upgrade your building class and also save you money.
One of the main reasons for this is absenteeism. As we reported in a previous blog, "A Massachusetts study calculated the cost of sick leave due to poor building ventilation and indoor environmental quality; they found that neglect in these areas cost employers $840 per employee per year or $40 billion on a national scale (adjusted for inflation)." In other words, if your employees are breathing better air, it can save you a bundle in absenteeism costs.
That's not the only way improving air quality is more affordable than you might expect. The federal government has approved $350 billion in use-it-or-lose-it funds to improve indoor air quality. Applying for these funds through your state or local government can help your business cover upfront costs associated with air quality improvements.
How ActivePure Can Help
You now know that improving your building's indoor air quality and sustainability can save you money by reducing energy costs, improving tenant morale, upgrading your building class, and/or allowing you to charge more profitable rent. However, it is important to know that improved air quality sometimes has an inverse relationship with energy efficiency.
Pandemic guidance suggests increasing ventilation, while only briefly acknowledging what kind of economic and practical impact this might have on the existing infrastructure. Building ventilation is a complicated field that requires balancing energy efficiency, temperature, humidity, indoor contaminants, and outdoor contaminants. Regarding the latter, bringing in outside air when the air quality is poor outdoors may increase indoor particulate matter. Meanwhile, bringing in additional outdoor air during extreme temperatures requires installing an enthalpy recovery ventilator to preserve energy efficiency and humidity levels. Additionally, high-MERV filters can strain your HVAC system, further decreasing efficiency and increasing energy costs.
This is where ActivePure comes in. ActivePure Technology can assist your building by preserving energy efficiency and simultaneously improving indoor air quality. Rather than trying to dilute pathogens, devices with ActivePure Technology neutralize bacteria, viruses, and mold spores in the room. Our devices don't require installing high-MERV filters into your ventilation system. Most induct units can be installed swiftly and easily by your in-house maintenance personnel, allowing your system to operate as normal. Meanwhile, our portable units require no HVAC modifications at all and can begin working immediately. By reducing pathogens without requiring extensive ventilation upgrades, ActivePure Technology gives companies the flexibility to ventilate in whatever way is most efficient for them.
In addition to avoiding inopportune ventilation upgrades, our devices are energy-efficient themselves. Most use about as much electricity as a lightbulb.
Whatever way the wind blows, ActivePure Technology is an affordable way to make energy-efficiency and air quality improvements to your building as part of your comprehensive plan for a better building qualification. Our air quality experts can even help you develop that comprehensive plan.
If you are merely trying to maintain your building class, we can help too. As BOMA advises, "At equipment end-of-life, replace with a more efficient model instead of a like-for-like replacement."21 We can be that more efficient model. To make ActivePure exhibit A in your Class A, B, or C building, contact our air quality experts today.
1 BOMA International. (2018-2020). "Building Class Definitions." boma.org/BOMA/Research-Resources/Industry_Resources/BuildingClassDefinitions.aspx
2 BOMA Québec. (2016). "Office Building Classification Guide." BOMA Canada. bomacanada.ca/wp-content/uploads/2016/09/building_classification14ang.pdf
3 BOMA International, 2018-2020
4 BOMA Québec, 2016
5 Rosinsky, A. (2018). "Do You Want Class A, Class B or Class C? Manhattan Office Buildings are Defined According to Classes." metro-manhattan.com/blog/manhattan-office-buildings-rated-by-classes/
6 BOMA Québec, 2016
7 Lanman, N. (2022). "The Difference Between Class A, Class B, and Class C Office Buildings." Colachino, M. ed. squarefoot.com/blog/class-a-buildings-class-c-buildings
8 ESD. (2022). "How To Keep Your Building Class A." esdglobal.com/news/article/how-to-keep-your-building-class-a
9 BOMA Québec, 2016
10 Day, 2019
11 BOMA Québec, 2016
12 BOMA Québec, 2016
13 Lanman, 2022
14 Lanman, 2022
15 Day, 2019
16 Cathcart, J, et al. (2020). Unlocking Hidden Value in Class B/C Office Buildings: Best Practices for Pursuing Low Cost, High-Impact Energy Efficiency and Green Leasing Strategies. Rocky Mountain Institute, Urban Land Institute, and BOMA International.
17 ibid., p. 20
18 ibid., p. 5-6
19 ibid., p. 13
20 ESD, 2022
21 Carthcart, J. et al., 2020